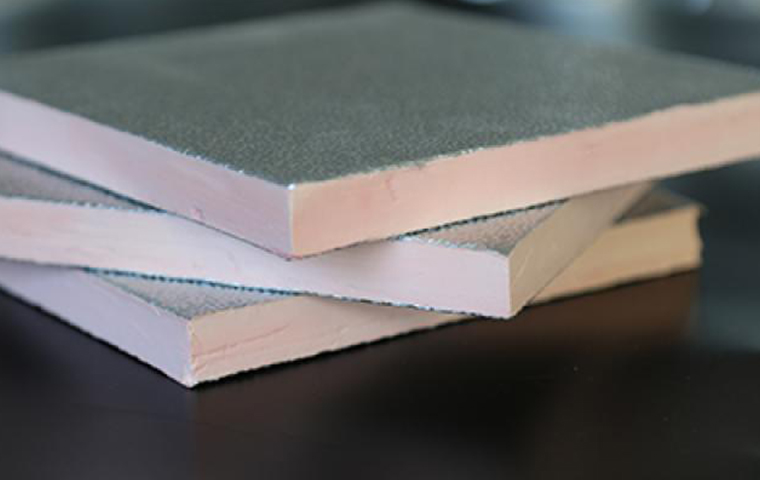 Application
The aluminum foil faced insulation board is made using a high performance material that performs well under harsh environmental conditions. It is often used in buildings with requirements for a high degree of fire protection and heat preservation, such as steel structure workshops, large industrial factories, pre-fabricated houses, cold storage, dust resistant workshops, story additions, religious institutions, gymnasiums, supermarkets and more.
Characteristics of aluminum foil faced insulation board
1. Excellent fireproof performance: The combustion performance reaches A levels, and is not flammable. Its maximum usage temperature is 180 ℃ (allow transient temperature of 250℃). The insulation board features a coke formation with no drops, curls or melting, even under direct exposure to flames. After exposure to flames, it will form a graphite foam layer on its surface in order to effectively protect the internal foam layer.
2. Outstanding heat-insulating property: This is an ideal material for heat preservation and heat insulation due to its low thermal conductivity.
3. Corrosion and aging resistant: It is nearly 100% resistant to corrosion caused by inorganic and organic acids and organic solvents. It has no obvious deformations even after long-term exposure to the sun.
4. Strong sound absorption property: The aluminum foil faced insulation board features an outstanding sound absorption property, with its open cell foam structure an ideal material for use in sound absorption.
Parameters of aluminum foil faced insulation board
| | |
| --- | --- |
| Thickness (mm) | 20, 25, 30 |
| Dimension (mm) | 2000*1200, 3000*1200, 4000*1200 |
| Fire-Protection Rating | Nonflammable B1 level |
| Density (kg/m³) | 60~70 |
| Water Absorption | ≤3.7% |
| Thermal Conductivity W/(m•K) | 0.024-0.034 |
| Temperature Range(℃) | -150~150 |
| Wind Resistance Strength (Pa) | ≤1500 |
| Compressive Strength(MPa) | ≥0.18 |
| Bending Strength (MPa) | ≥1.1 |
| Leakage Air Volume | ≤1.2% |
| Thermal Resistance(㎡K/W) | 0.86 |
| Smoke Density | ≤9, no release of toxic gases |
| Dimensional Stability | ≤2%(70±2℃, 48h) |
| Oxygen Index | ≥45 |
| Fire Endurance | >1.5h |
| Formaldehyde Emission | 0.5mg/L |
| Air Flow Max | 15M/S |
Remarks: We can also customize various sizes according to the customer's requirements.
The aluminum foil faced insulation board is a new heat insulating material produced using advanced technology. It is produced using a one-time continuous production of double sided thickening of embossed aluminum foil and phenolic foam through a specialized production line, and features a sandwich structure. Through the usage of a special treatment, an excellent adhesion between the layers of the double sided, non-woven fabrics is guaranteed. The middle phenolic foam insulation layer features an advanced foaming process with exquisite pores and a uniform density, so as to ensure the strength and heat insulation performance.